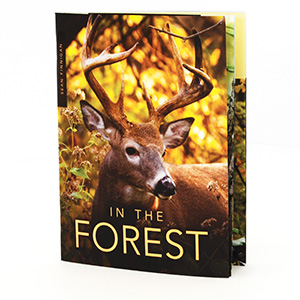 A leader in bound booklet printing since 1985, TigerPress produces hundreds of thousands of different booklets, catalogs, literary books, magazines and reports every year. Whether you need a short run of simple saddle stitched booklets or a large run of complex hardcover books, we have the experience and knowledge to get the job done right every time.
---
COLOR CATALOGS
Our catalogs are available with either saddle stitching or perfect binding as standard options, with additional features available including pockets to hold additional materials. Print up to six colors with your choice of coatings and paper to capture your reader's attention. Catalogs that are intended to be used for longer periods of time can be produced using heavier stock for the covers to ensure added durability.
LITERARY BOOKS
We offer standard perfect binding as well as hardcover and cloth binding for our literary book projects. These options combined with a low minimum order size ensure that we can meet the needs of every customer, whether you're a self publisher looking for 100 books or a large corporation looking for 10,000. Standard sizes range from 4" x 6" up to 9" x 12" and can be printed on 40 lb. through 100 lb. text papers.
STITCHED BOOKLETS
Whether you need a simple black and white company newsletter, a high volume color magazine or a durable pocket guide, saddle stitched booklets are the most economical alternative to other types of binding. Standard page counts range from 8 all the way up to 96 and can be produced on 60 lb. through 100 lb. coated or uncoated text paper. We offer FSC certified papers upon request.
Give us a call at 413-224-2100 or use the options below for more information.
Three options for great service at an affordable price.
I do not have the exact specifications, but I can explain my project and then would like to discuss further with a representative.
Please Contact
I need a quick online price. Great option for budgeting!
Online Pricing