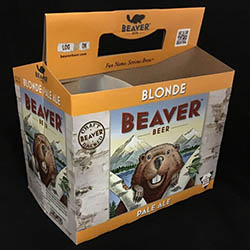 TigerPress is an industry-leading expert in the manufacturing of beverage carriers. We offer many different styles of 4 pack and 6 pack carriers. Our experienced staff can help you pick the right style of carrier for your product and make sure your brand is presented well on the outside.
TigerPress produces quantities of 5,000 or more custom printed carriers with a very quick turnaround at highly competitive prices. We also offer Vendor Managed Inventory (VMI) for your convenience. Place your annual order once and take advantage of volume pricing. We will ship them to you as you need them!
As an ISO 9001 certified quality printer, TigerPress takes pride in producing the highest standard of quality. Our state-of-art manufacturing facility is equipped with a variety of printing and finishing options to meet or exceed your packaging needs. Choose from HUV printing, AQ or UV coatings, special finishes, die-cutting, hot and cold gluing, windowing, straight and right angle folding. In addition, we offer many grades of substrates such as SBS, SUS, TMP, CCKB, foil and Mylar laminated board in many calipers up to 40PT.
Call us at 413-224-2100